If you're looking for the best scheduling tool for your Instagram posts, you've landed on the right page. Yes, it is possible using Tailwind for Instagram, but you can't just miss the features it offers.
I'm going to tell you how amazing this Instagram scheduling tool is, It can help you to accelerate the growth of your Instagram account using its cool features.
Note: This post contains affiliate links, which means I will make a commission at no extra cost to you should you click through and make a purchase.
---
What is Tailwind for Instagram?
Tailwind is the best scheduling tool for both Instagram & Pinterest. Tailwind is an Official partner of Instagram & Pinterest so your account is 100% safe.
You can easily get more engagement, more likes & comments, and grow your Instagram fast. Check out the typical results users get after using Tailwind for Instagram.
Tailwind publishes the typical results of Tailwind members every year, so you can see exactly what the average growth rate looks like for their members.
In this post, we're only going to talk about Tailwind for Instagram and its features. So let's talk about what features you'll get from Tailwind for Instagram.
---
Features of Tailwind for Instagram
Tailwind is a feature-rich tool, below are the most notable features for what Tailwind stands out for and that's why people love it.
Scheduling with Auto Post
You can schedule your Instagram posts whenever you want to get it posted. Also, Tailwind will show you the suggested post timings when your audience is most engaged for getting the most engagements out from the posts, that's smart scheduling.
You can also batch Instagram posts. Other than this you schedule stories, and videos too.
Regram Photos from Anywhere
They offer a free extension known as Tailwind Publisher, using which you can upload or schedule photos you find online with easy attribution.
Also, they have integrated Unsplash too, you can easily search their entire library and get stock photos from there and schedule your Instagram feed.
Analytics
You can check the analytics of how many followers you're gaining, how many likes are you getting (like in the last 7 days). You can easily track your Instagram profile's growth. With this, you can easily analyze what works for your Instagram and whats not.
Visual Planning of Instagram Feed
Yes, you heard it right, Instagram is a visual social platform, so you do need to see visually how your Instagram should look like. You can visually plan how your Instagram feed should look like. And that too using a Drag-and-Drop grid planner. Isn't it great, what more would you wish for?
They have recently revamped their UX design.
Content Plans
We may have come to the point where we aren't sure what to post next, yes sometimes we run out of ideas and keep thinking about what to post that leads to inactivity of the account which we for sure don't want.
Content Plans provide ready to use post templates and ideas based on your business type so you never run out of content ideas. Also, there are captions templates too (in Mad-lib style) to help you with an awesome caption for your Instagram post.
You know the importance of hashtags in Instagram Algorithm. Yes, it's very important to use the hashtags correctly for getting a better reach of the Instagram post.
Using Hashtag Finder you can easily get the best hashtags for your posts. Also, if you don't want to post hashtags in the post caption and want clean looking captions without any hashtags then you can easily hide the hashtags in the first comment with a single click.
Smart.bio
You all know we can add a link to our Instagram bio. Using Smart.bio we can create your personalized branded landing page that'll send traffic to that page from Instagram. You can easily promote your content, offers, courses, products, etc.
Also, you can check which links are getting what amount of click on the landing page which will help you to know better what's working and what's not.
And the list goes on as there are many more features like, Post Inspector (how your posts are performing) and also profile performance analysis which tells you the engagement rate & scores.
Also, you'll receive Summary email reports, You can Invite teammates, maintain multiple accounts, and the best thing is they have synced mobile app to even work from your smartphone too. Download Tailwind from Google playstore or Apple app store. All these features you might want to explore.
So give Tailwind for Instagram a try, and also try these features yourself and see If it makes a difference or not. It's a huge time saver as well as good for the growth of your Instagram.
So you might be wondering all the cool features, time saver tools, it must be coming at a great price tag right? Let's check how much you need to invest to get all these features.
---
Pricing of Tailwind for Instagram
If you're a new user, you can start with a trial (no credit card required), and get to explore what everything Tailwind for Instagram looks like and how it works.
Tailwind for Instagram trial is based on 30 scheduled Instagram Posts (not 14 days or 30 days) with all their features unlocked, so don't worry, there's no time limit, you can acquire some awesome photos for your Instagram feed and test out this tool.
Okay, that's the thing about the trial. After the trial is over, the charges are $14.99/month if you pay monthly. And if you choose to pay annually then you need to pay an average of $9.99/month i.e $119.88/year.
Let's do some calculations, if you pay $14.99 each month, that will be about $179.88 in a year. So if you choose to pay annually at once then $179.88-$119.88=$60, you'll be saving about $60 annually compared to if you choose to pay monthly. The choice is yours!
---
Conclusion
One thing I want to mention that, Tailwind for Instagram works best with the Instagram Business account. If you don't have a Business account you'll be prompted to make the switch. It's easy just follow the steps below -
Open the Instagram app on your mobile device
Go to your profile and tap on the hamburger icon in the upper right corner.
Click Settings > Account
Click Switch to Professional Account
Click the Business option
Follow the steps, select the category, then review your contact info to connect your business account to a Facebook Page associated with your business. And also Make sure you are an admin of the Facebook Page.
Tap Done!
If you're a hardcore Instagram user who's looking for more engagement, likes & comments, or your business has good exposure on Instagram, then you can't miss out not this tool.
They also offer easy to follow video guides to get easily understand their platform and make the most out of it.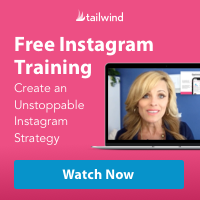 It's a huge time saver, especially for those who want to post consistently with new content on Instagram for their followers.
So start your Trial with Tailwind for Instagram and see the results yourself.